BMW Z3 Roadster specificatin and pictures gallery
BMW unveiled the Z3 Roadster in 1995. The BMW Z3 got off to a flying start by being James Bond's mode of transport in the movie Golden Eye.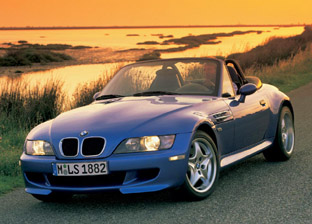 Initially the Z3 was offered with either a 1.8 litre or 1.9 litre four cylinder. These were soon followed by a 2.8 litre straight 6 cylinder found in the Z3 M version. As well as the beefed up engine the BMW Z3 M featured more muscular styling, wider alloy wheels and a unique interior. The Z3 M Roadster was later joined by the Z3 M Coupe.